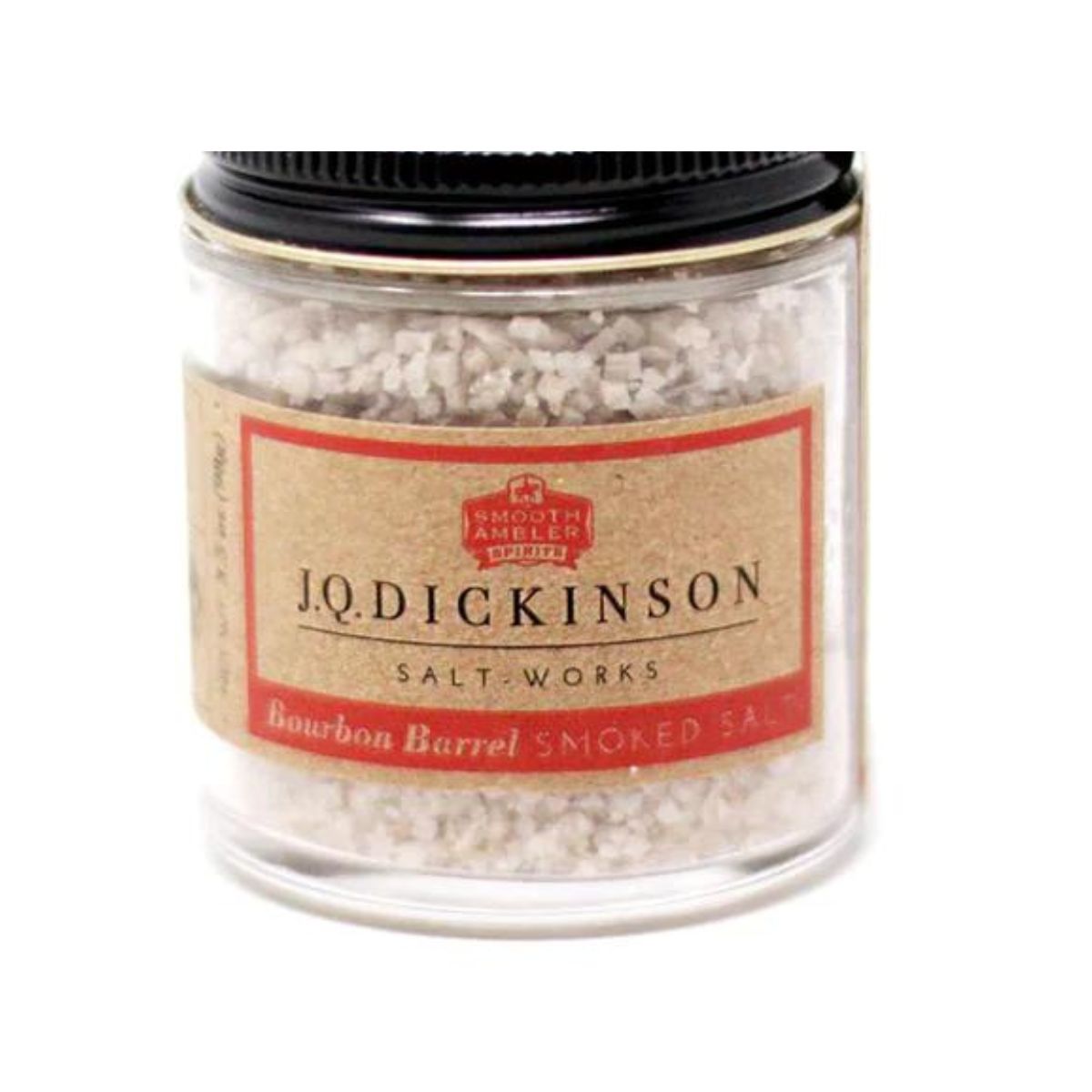 Bourbon Barrel Finishing Salt- J. Q. Dickinson, Harvested and handcrafted.
Harvested and handcrafted from an ancient ocean trapped below the Appalachian Mountains of the Kanawha Valley in West Virginia.
Introducing the J. Q. Dickinson's Bourbon Barrel Smoked finishing salt, crafted in partnership with Smooth Ambler Distillery. This all-natural salt is elevated with the rich smokiness from prized Contradiction bourbon oak barrels, adding a bold and unique flavor to your steaks, seafood, and even margaritas.
Don't settle for ordinary, bland salt. Upgrade your cooking game and add a touch of sophistication to your dishes with our Bourbon Barrel Smoked salt. This versatile seasoning is perfect for the griller or anyone who loves to experiment with unique flavors.
Not only will it elevate your dishes, but it also makes a great gift for the foodie in your life. So why wait? Add some smoky magic to your kitchen today with J. Q. Dickinson's Bourbon Barrel Smoked salt! 3.5OZ.
About J. Q. Dickinson- 
J. Q. Dickinson is a 7th generation salt-making family that harvests an all-natural salt by hand, from an ancient ocean trapped below the Appalachian Mountains of the Kanawha Valley in West Virginia.
One could say salt-making runs in our blood. We are seventh-generation salt-makers, brother and sister Nancy Bruns and Lewis Payne. We share a common love of food, farming, and family. We have come together to revive our 200-year-old family trade in Malden, West Virginia, and once again produce salt for our local communities and beyond.
With our love of the land and our shared culinary passion, we have worked to produce a rare, small batch finishing salt, harvested from the ancient Iapetus Ocean trapped underneath the mountains of Appalachia. The result is a pure, delicious salt sure to transform any dish.
The history of Appalachian salt is deeply personal to our family. Our Dickinson ancestors first drilled for brine in 1817, using a hollowed-out tree trunk for piping, and established our family farm along the Kanawha River a few years after. By the 1850s, there were hundreds of wells along the river producing more than three million bushels of salt per year, making the Kanawha Valley the largest salt producing region of the United States.
In 1851, "The Great Kanawha Salt" was awarded "The Best Salt in The World" at the World's Fair in London. Today, we are reviving our family's salt-making tradition on the very same land where it all began.  
Our salt is completely natural and contains many minerals. We are family owned, and we believe that treating the earth and our environment with care will allow our family and yours to live off the land for many years to come. We use the power of Mother Nature to produce our salt, and are always looking for ways to reduce our carbon footprint.