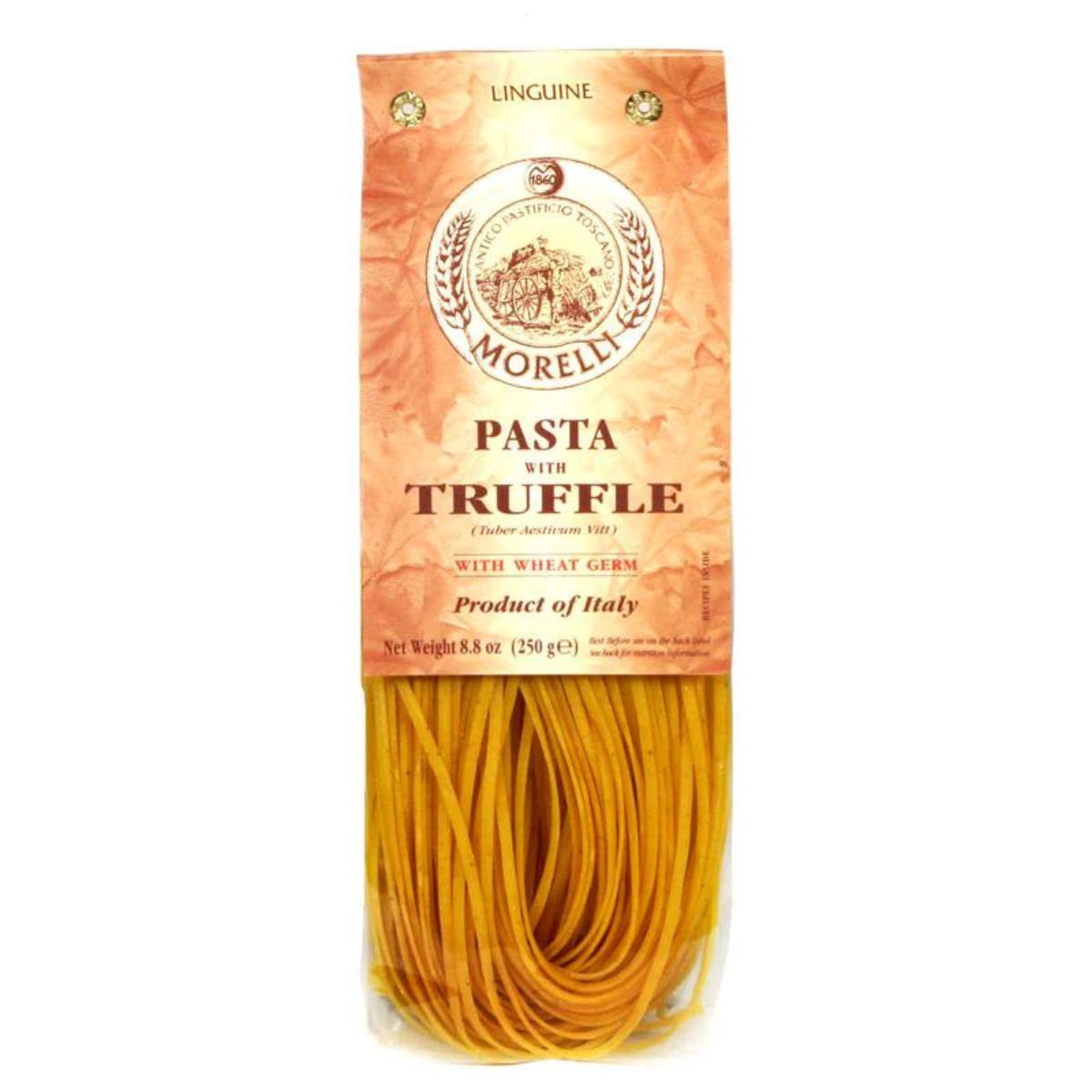 Tagliolini with Summer Truffle- For the truffle lover
Save

Liquid error (snippets/product-badge line 32): Computation results in '-Infinity'

%
Indulge in the luxury of Tagliolini with Summer Truffle, crafted from premium Italian durum wheat semolina and processed using artisan techniques. Enjoy the distinctive aroma of truffle as it is cooked, accompanied by a delightful balance of truffle, egg, and wheat germ flavors.
Perfect for serving with truffle butter, fresh truffle, and mushroom sauces, it's sure to delight the most discerning palates.
8.8 oz. Made in Italy. 
About the maker:   
Established in 1860, the renowned Morelli Pasta Factory has been a family-run enterprise for generations. Today, the fifth generation of the Morelli family—siblings Lucia, Antonio, and Marco—continues to uphold its cherished traditions. The Morelli Pasta Factory sets itself apart with unique and delicious pasta, thanks to the artisanal craftsmanship and the key ingredient: wheat germ.
Wheat germ, the heart of the grain, is rich in vitamins A and D, as well as vegetable protein. Typically, during the milling process, wheat germ is removed to increase the shelf life of the product. However, the Morelli Pasta Factory re-incorporates fresh wheat germ into the semolina, yielding a truly exceptional pasta that stands by the slogan, "Our pasta is something else."
Years of utilizing wheat germ have resulted in pasta with a distinctive flavor and aroma, which releases a subtle green hue in the cooking water due to the presence of fresh wheat germ.
The Morelli Pasta Factory, still located at its original site, produces a wide array of specialties, employing ancient techniques without the use of preservatives or artificial coloring. The outcome is wholesome pasta with a rich flavor and full consistency.
You can find Morelli's exceptional pasta in prestigious shops throughout Italy and abroad, as their commitment to quality and tradition continues to impress discerning pasta enthusiasts.