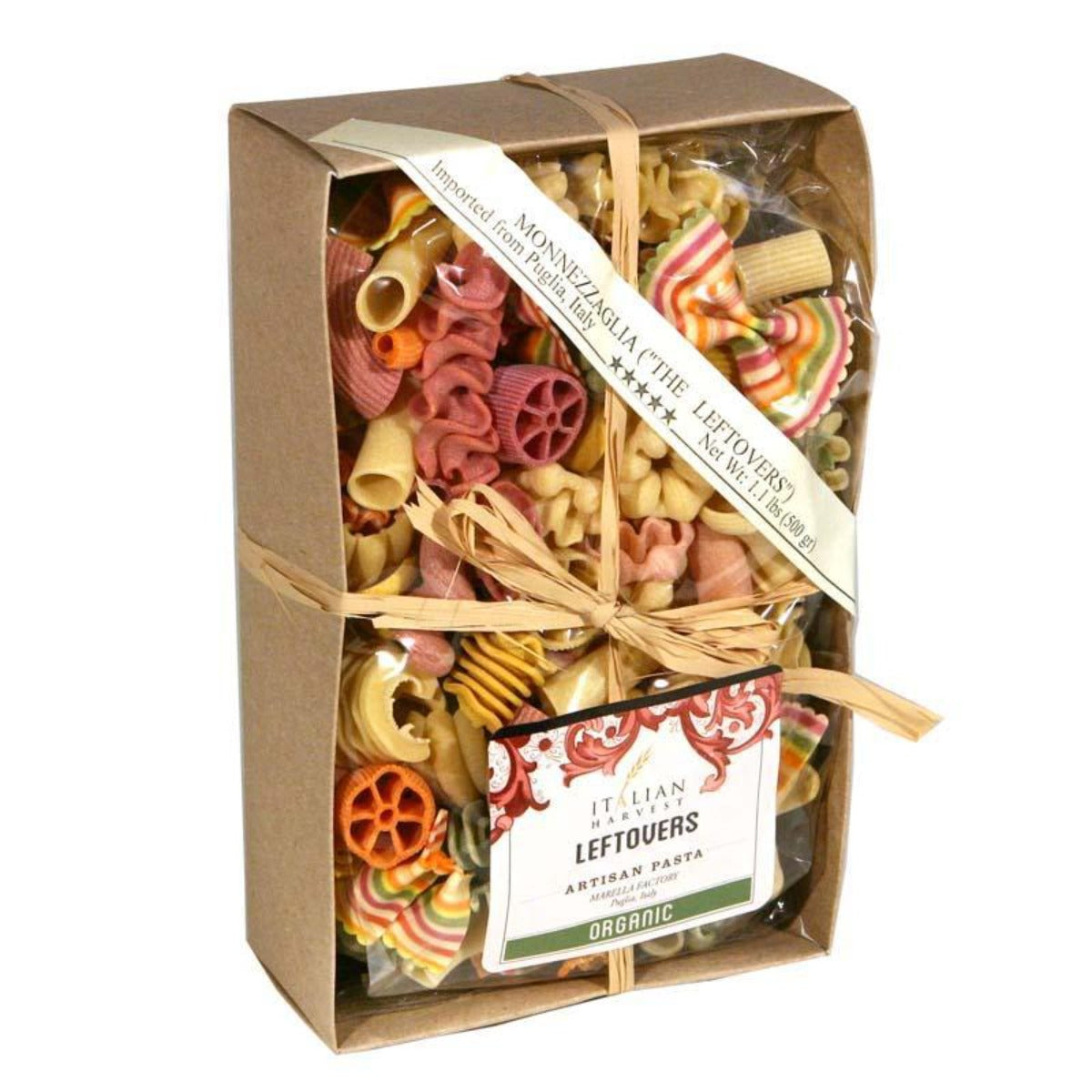 Organic Monnezzaglia (Leftovers) Pasta- Great for pasta salad
Save

Liquid error (snippets/product-badge line 32): Computation results in '-Infinity'

%
This unique, artisanal pasta features an elegant assortment of shapes, each meticulously crafted from various pasta cuts. Embracing the rich Italian tradition, these delightful, mismatched shapes are combined and cooked together once a week, offering a delightful culinary experience.
A favorite among both children and discerning adults, this sophisticated "leftovers" pasta brings a touch of joy and charm to your dining table.
Each box of our pasta is truly one of a kind, boasting vibrant colors that are derived entirely from natural ingredients. Crafted with the finest durum wheat semolina and water, this pasta is elevated by the addition of dehydrated tomato, chile pepper, spinach, paprika, beetroot, and kurkuma, creating a luxurious dining experience that is sure to impress.
Wt. 1.1lb., Made in Italy.
About the maker:  
The Marella pasta factory, established in 1987 in Gioia del Colle, is a true testament to Italian tradition and artisanal craftsmanship. They create high-quality, unique pasta using only the finest Apulian grains, which are sometimes mixed with other Italian grains of equal quality. The dough is combined with purified water and then bronze-drawn to achieve a rough and porous texture that holds sauces better.
Following the teachings of ancient pasta masters, Marella employs a slow drying method at 37/38 degrees, which can take up to 72 hours depending on the pasta shape. This technique preserves the original proteins and amino acids, including tryptophan, also known as the happiness hormone.
Marella's pasta factory embraces pasta as a way of life, promoting joy, love, and appreciation for tradition. When you eat their pasta, you experience a sense of well-being, a break from monotony, and a journey back in time. The handcrafted nature of their pasta is evident in the slight imperfections that make each piece unique.
Marella's pasta stands out due to its 100% Italian wheat, bronze-drawn process, slow drying, and low furosin levels (less than 140 mg per 100 g of protein). The pasta's clear color is a testament to its traditional production methods and commitment to nutritional sustainability. Savor the quality of Marella's artisan pasta and indulge in a taste of Italy's finest traditions.