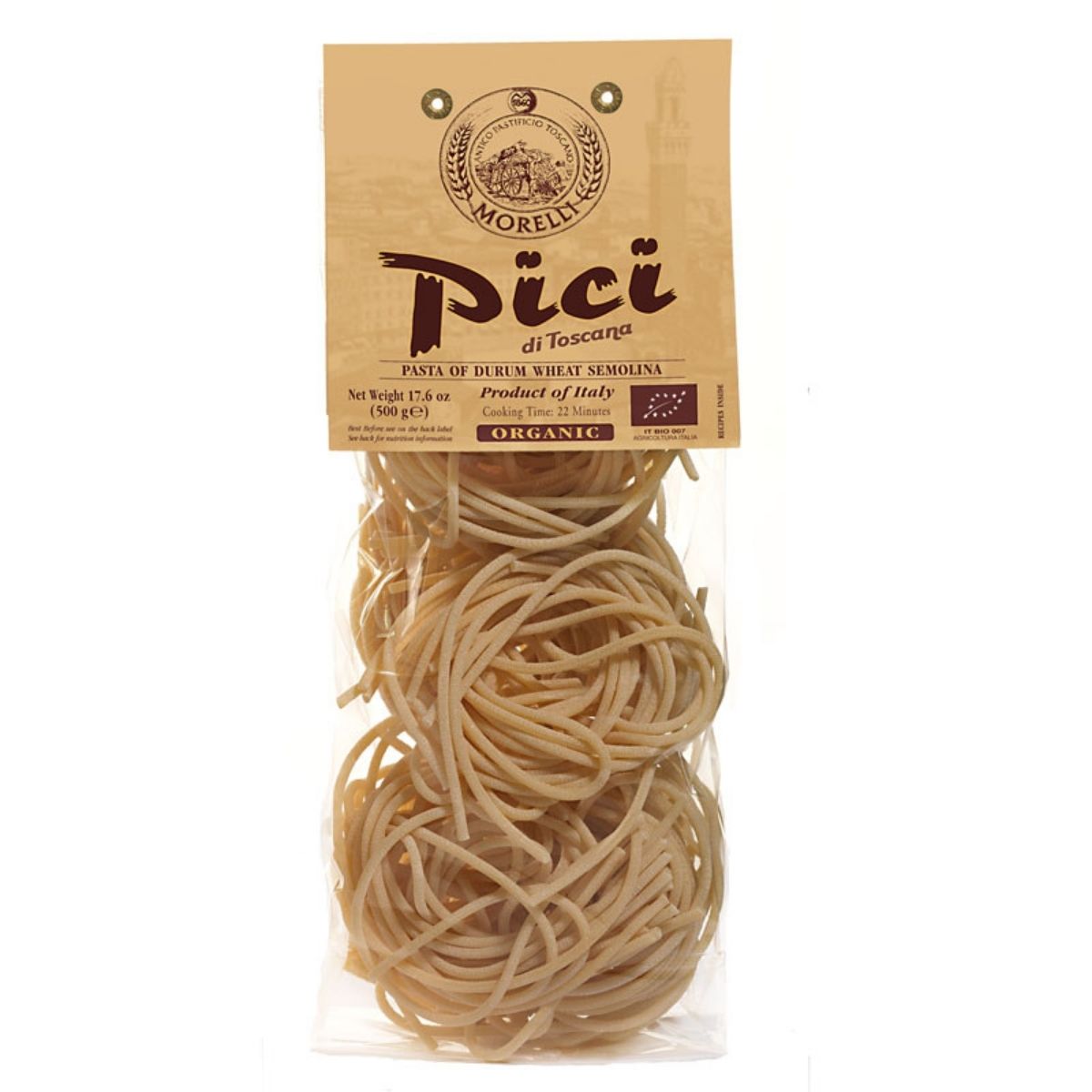 Organic Pici di Toscana- Try it with a spicy pasta sauce
Save

Liquid error (snippets/product-badge line 32): Computation results in '-Infinity'

%
Handmade Pici pasta enjoys a long, ancient history, dating back to the Etruscans. This regional specialty originates from the town of Siena in Tuscany. If you've been to Siena, chances are you've enjoyed Pici pasta!
Using artisan methods, bronze-drawn and made from Italian durum wheat semolina, dried at a low temperature.
When cooked, pici has a radius about the size of a standard pencil, giving it a cook time of around 20 - 22 minutes, but it is well worth the wait.
This pasta is perfect for pre-cooking as it does not stick together and never overcooks, even if combined with a sauce and kept warm for several hours.

For the best result, we suggest cooking this pasta in plenty of boiling water and not stirring it for the first 12 minutes to prevent it from breaking up. The total cooking time is 22 minutes.
Serve it with any sauce or try something more traditional like Pici alle briciole (pici with breadcrumbs) or Pici all'aglione (pici with tomatoes and garlic). Durum wheat, water.
About the maker:   
Established in 1860, the renowned Morelli Pasta Factory has been a family-run enterprise for generations. Today, the fifth generation of the Morelli family—siblings Lucia, Antonio, and Marco—continues to uphold its cherished traditions. The Morelli Pasta Factory sets itself apart with unique and delicious pasta, thanks to the artisanal craftsmanship and the key ingredient: wheat germ.
Wheat germ, the heart of the grain, is rich in vitamins A and D, as well as vegetable protein. Typically, during the milling process, wheat germ is removed to increase the shelf life of the product. However, the Morelli Pasta Factory re-incorporates fresh wheat germ into the semolina, yielding a truly exceptional pasta that stands by the slogan, "Our pasta is something else."
Years of utilizing wheat germ have resulted in pasta with a distinctive flavor and aroma, which releases a subtle green hue in the cooking water due to the presence of fresh wheat germ.
The Morelli Pasta Factory, still located at its original site, produces a wide array of specialties, employing ancient techniques without the use of preservatives or artificial coloring. The outcome is wholesome pasta with a rich flavor and full consistency.
You can find Morelli's exceptional pasta in prestigious shops throughout Italy and abroad, as their commitment to quality and tradition continues to impress discerning pasta enthusiasts.