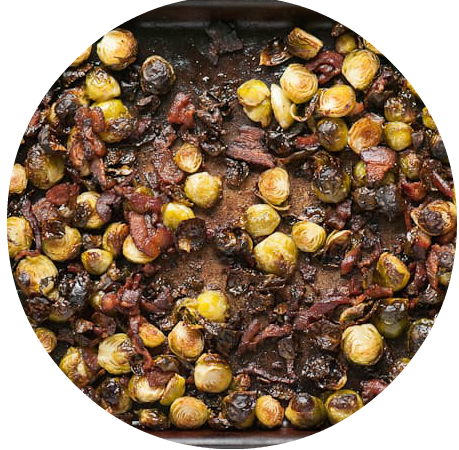 Brussels Sprouts with Bacon Olive Oil, Bacon, and Maple Balsamic Vinegar
Roasted Brussels sprouts with Bacon EVOO, Bacon, and Balsamic Vinegar are downright delicious. It is a wonderful thing!
Brussels sprouts are bitter vegetable, roasting them takes some of that bitterness away, but a sweet, and tangy balsamic glaze balances out that bitterness almost immediately.
Ingredients
Directions
Preheat oven to 400 degrees F. Add chopped bacon pieces to baking sheet and bake for about 15 minutes.
While bacon is cooking, toss Brussels sprouts in olive oil and salt and pepper to taste. After 15 minutes of cooking, remove bacon from oven and add Brussels sprouts to the baking sheet. Toss with the bacon and continue cooking for 30-40 additional minutes until the sprouts are golden brown.
When sprouts and bacon are done, remove from oven and transfer to a serving dish. Cover with balsamic and serve hot.