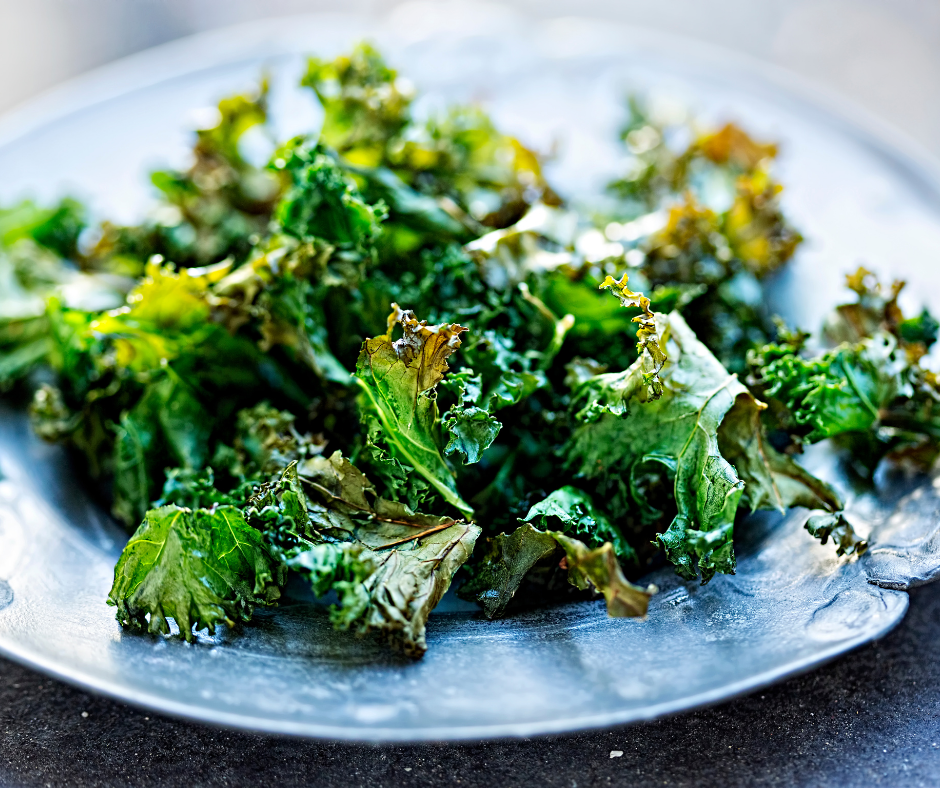 Garlic & Sea Salt Kale Chips
Ingredients:
1

 

medium-sized bunch of kale

 

washed and dried very well

a pinch or two of sea salt

a pinch of garlic powder
Instructions:
Preheat your oven to 300 degrees Fahrenheit.

Wash and dry one bunch of kale, making sure the leaves are completely dry. If there's any moisture left on the leaves you'll end up with soggy kale chips.

Rip the leaves off the stems and away from the chewy veins of the kale and into chip-sized pieces.

Arrange the pieces of kale on an unlined baking sheet.

Drizzle the olive oil as evenly over the kale as possible. Using your hands, gently massage the oil into the kale leaves, making sure to massage the oil well into all the folds and onto the entire surface of each of the kale leaves. At first it may not seem that 2 teaspoons of oil will be enough but adding more oil will only add too much moisture. If you find you need a tiny bit more oil, add it one drop at a time.

Once you've finished massaging the kale, sprinkle a pinch or two of sea salt and a pinch of garlic powder over the kale and add the pan to your preheated oven.

Bake for 10 minutes. Rotate the pan, flipping any pieces that are starting to look crispy and bake for another 10-15 minutes, watching the pan closely for the last 7-8 minutes to prevent over browning.

Remove the pan from the oven and leave the kale chips on the pan for 3-5 minutes before serving to they can crisp up even more!
Recipe adapted from The Busy Baker