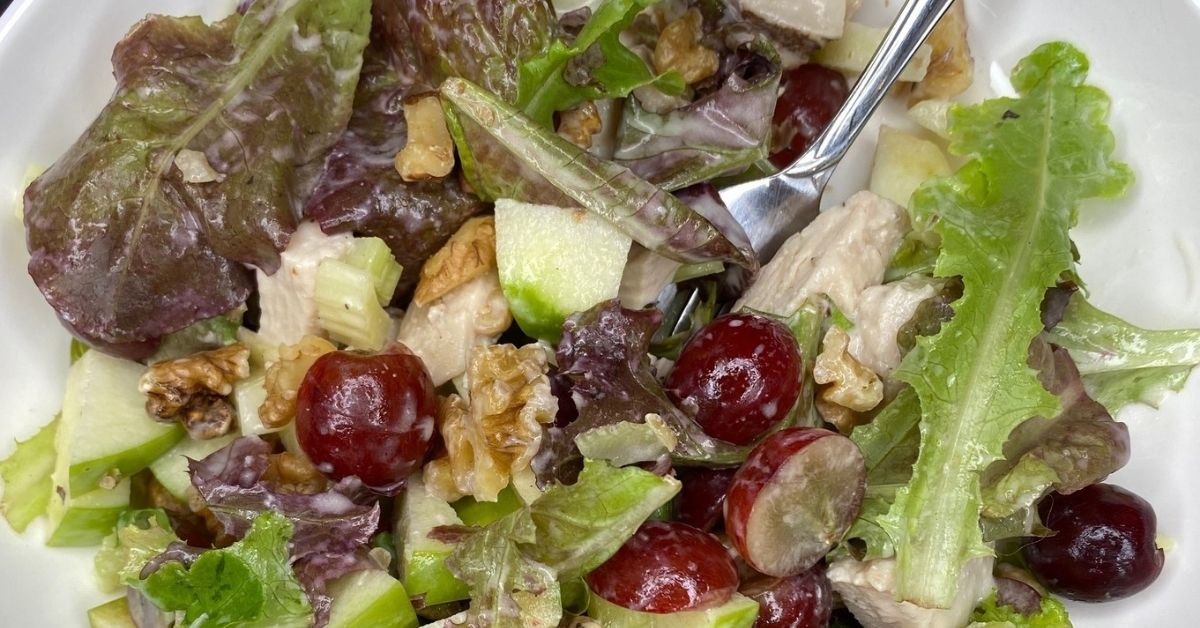 Summer Waldorf Salad with Grilled Chicken
This Waldorf salad recipe is the perfect accompaniment to warm weather—just remember that since the dressing is mayo-based you'll want to keep it on ice when it's not in the fridge. The recipe is fresh, crisp, and easy!
Ingredients
Salad
1 bunch Red kale, stems removed and torn into small pieces (use Spring Mix or Arugula Mix) 
1 lb. Chicken breast, grilled with salt and pepper
1 cup Candied walnuts
2-3 Celery ribs, roughly chopped
1 cup Grapes, cut in half
1 Granny apple, cut into cubes
Dressing
3/4 cup Mayonnaise
1/4 cup Rosemary Lemon Olive Oil
2 Tbsps. White Balsamic Vinegar
2 Tbsps. Lemon juice
Zest of 1 lemon
1/4 tsp Freshly ground pepper
2 Tbsps. Honey
Directions
In a small bowl mix together dressing ingredients until smooth.
In a large bowl toss torn kale with salad dressing. Top with sliced chicken breast, candied walnuts, celery, grapes and apples.
If making ahead, store prepared salad without dressing the kale. Dress salad right before serving.