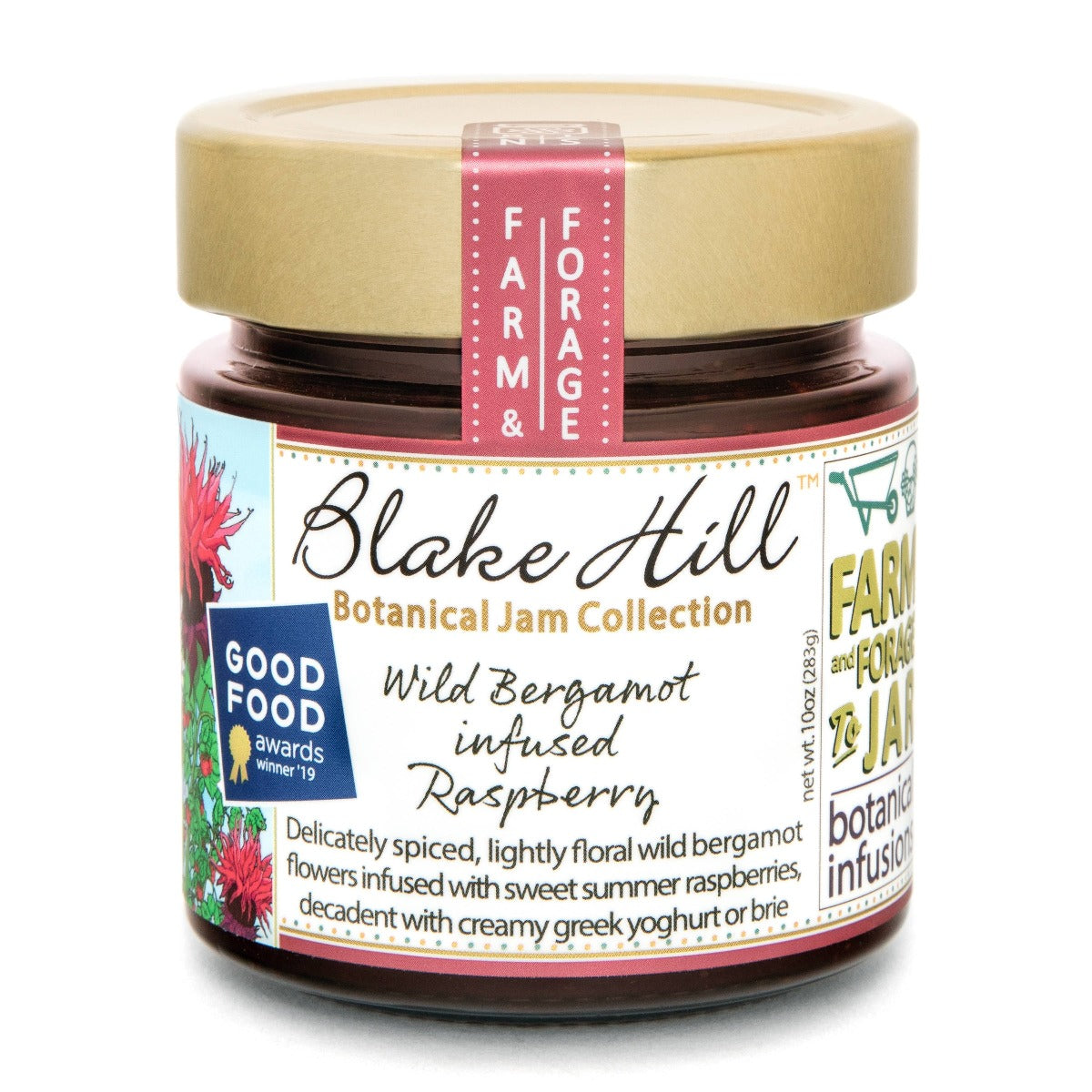 Wild Bergamot infused Raspberry- Wonderful on toast with tea.
From the gardens at Blake Hill, wild bergamot flowers are infused to create an incredibly fragrant tea with light peppery notes.
A perfect combination for bright, tart raspberries coming into season at the same time. Naturally sweet, with a hint of spice, this preserve offers a palate of refined earthiness evocative of rain-soaked summer gardens.
An exquisite topping for cheesecake. A wonderful flavor to incorporate in puff pastries. An innovative glaze for roast chicken.
Non-GMO, Gluten-Free, Kosher, Vegan, Dairy-Free, Nut-Free, Less Sugar, More Fruit
Ingredients: Raspberries, cane sugar, wild bergamot flower tea blend, lemon juice, fruit pectin
About the maker
Vicky and Joe, the founders of Blake Hill Preserves, come from diverse culinary backgrounds. With Vicky's childhood spent on English farms and Joe's upbringing in Gibraltar, their love for global flavors and preserve-making traditions brought them together. After spending a decade traveling across Asia, South America, and the Middle East, they settled in Grafton, Vermont, turning their 1800s farming property into a thriving preserves business. Their passion for preserving grew as they transformed their home kitchen into a bustling commercial jam-making space, eventually building their first preserves facility in Grafton in 2012.
Their dedication to quality and unique flavors led to collaborations with Vermont's finest cheese makers and bakers. In 2014, they won their first US Good Food Awards, Gold at The World's Marmalade Awards, and caught the attention of renowned personalities like Bobby Flay and Martha Stewart. These accolades kickstarted their exciting new career in preserve-making. To meet increasing demand, they built a larger kitchen and opened their first Specialty Preserves Shop in Windsor, Vermont, in 2016.
Today, Blake Hill Preserves offers tastings of over 40 varieties of sweet, savory, and spicy jams in their shop, and occasionally hosts cooking classes. In 2020, they launched the successful "Cooking with Jam" series, providing recipes that elevate simple dishes using Blake Hill jam. As a small business, they continue to create award-winning products that showcase their love for unique flavors and preserve-making traditions.