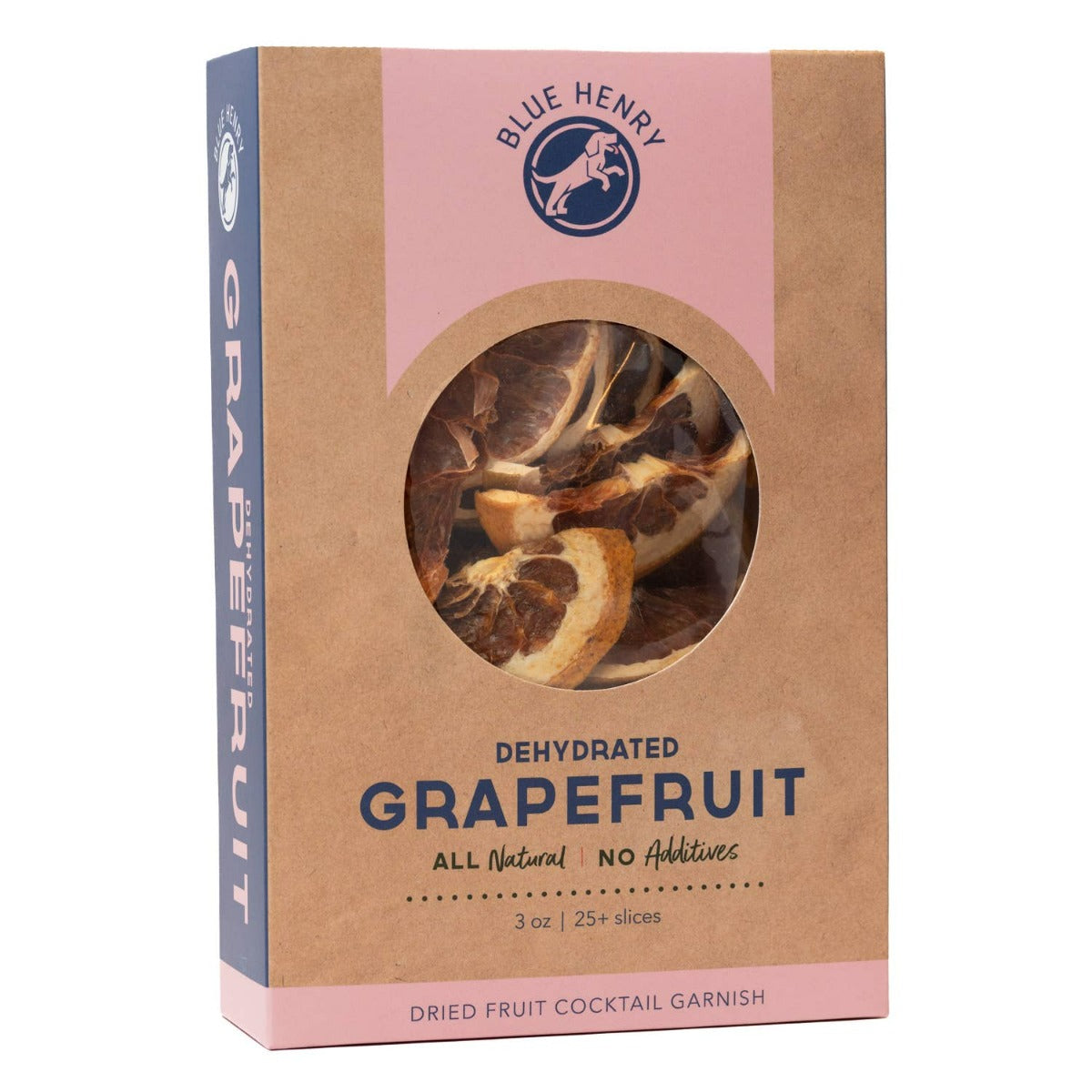 Grapefruit Dehydrated Half Slices- Perfect for desserts or mocktails
Save

Liquid error (snippets/product-badge line 32): Computation results in '-Infinity'

%
Turn your creations into masterpieces with our Dehydrated Grapefruit Half Slices! Perfect for mixologists, these slices offer a zesty, bright flavor and a beautiful pink hue. Expertly dehydrated at peak ripeness and low temperatures to preserve flavor and color, these slices rehydrate soft when exposed to moisture.
Add a decorative garnish to cocktails, or sprinkle in dessert and baking recipes for a burst of grapefruit flavor.
Get inspired and create deliciously unique recipes with our Dehydrated Grapefruit Half Slices!
As with all our dehydrated fruit garnishes, our Dehydrated Grapefruit Slices are all natural, meaning NO added sugar and NO artificial flavors, colors, sweeteners, or preservatives. These half slices have a long shelf life of 12 months.
About the maker: 
Adrienne Walker, the spirited force behind BlueHenry, knows how to craft more than just a party—she crafts unforgettable experiences. The dilemma was simple yet relatable: how could she be the ultimate host while also enjoying her own soirees? Enter BlueHenry's game-changing product line.
Adrienne doesn't just pick any ingredients; she opts for the simplest and most natural ones. These choices are more than just a shopping list—they're a statement. BlueHenry's rimming salts and sugars are a testament to Adrienne's dedication to local, American-made ingredients, with 95% of their flavor extracts masterfully crafted in-house. The result? Each sip becomes a mini-celebration.
But don't mistake Adrienne for a trend-follower; she's a trendsetter. Captivated by the evolving craft cocktail scene, she saw a gap for products that were both high-quality and hassle-free. A cocktail, in Adrienne's world, is more than a drink; it's a tribute to meaningful moments and cherished company.
In Adrienne's own words: "Making every occasion extraordinary is what BlueHenry is all about. I've designed a line that brings excellence to your glass, effortlessly. And the joy of inventing new delights? That's my daily reward."
So, the next time you're hosting, let Adrienne Walker and BlueHenry elevate your gathering from just another party to an event that's the toast of the town.