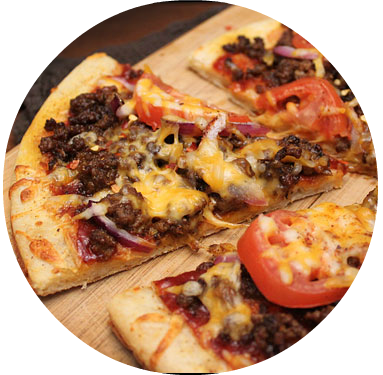 Cheeseburger Pizza
Host a pizza night at home!
This recipe will make 3 pita pizzas or one thin crust pizza with 6 slices.
Ingredients
3 6" whole wheat pitas or 1 12" thin crust pizza
9 oz lean ground meat - you can use ground turkey or chicken if you prefer.
3 tablespoons Burger Blast seasoning
1/2 cup jar Marinara Pasta Sauce
1 cup shredded cheddar cheese
1/2 medium red onion, sliced
1 plum tomato, sliced
Directions
Preheat oven to 425 degrees
On medium high heat, combine meat and seasoning in a skillet.
Cook until meat is browned. If meat becomes dry add about 1/4 cup water to the mixture
Place 3 whole wheat pitas (or thin prepackaged pizza crust) on a cookie sheet and spreading each pizza with marinara sauce leaving an edge on the pita.
Divide seasoned, cooked meat and spread evenly on each pizza
Divide cheese and sprinkle evenly over each pizza
Bake in oven about 8 - 10 minutes until cheese melts and pita is crispy
Divide red onions plus tomatoes and place evenly over each pizza.