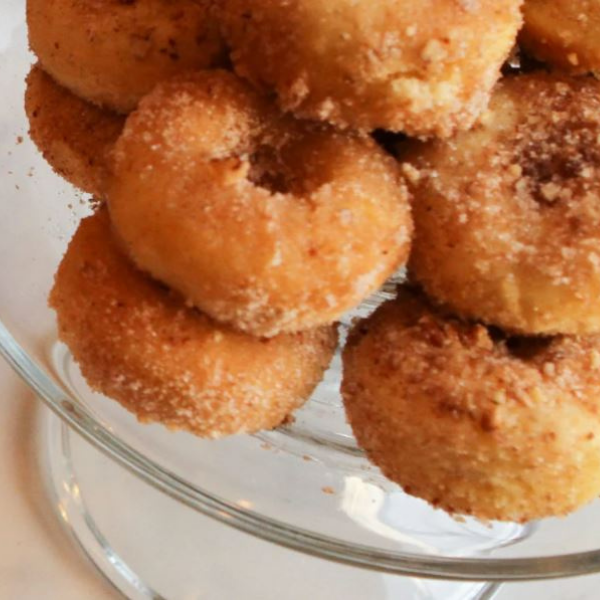 Doffins
From our friends at Runamok Maple!
Baked hybrid doughnuts
 made with a similar doughnut batter, they are baked in the oven and then dunked in melted butter and maple syrup and rolled in sugar, nuts and cinnamon. The result is sort of muffin-like and kind of donut-y treat!
Ingredients
⅓ cup butter

½ cup sugar

1 egg

1 ½ cup flour

1 ½ tsp baking powder

½ tsp salt

½ cup milk

 4 Tbsp. butter
2 Tbsp. Cinnamon-Vanilla Maple or Sugarmaker's Cut Pure maple syrup
 1 – 2 Tbsp. chopped pecans

⅛ tsp cinnamon

¼ cup sugar
 Directions
Preheat oven to 350F.  Butter a donut or small muffin pan and set aside.

Melt ⅓ cup of butter and let cool. 
Add the sugar and egg and mix well.
Sift the flour, baking powder and salt together.  Add the flour mixture alternately with the milk until you have a thick batter.
Carefully drop the batter into the prepared pans, making sure not to fill each donut or muffin cell to the top but just under. 
Bake in the oven for 15 – 20 minutes or until just brown and cooked through.
While the cakes are baking, melt the butter in a small pot and add the maple syrup. 
In a separate bowl, mix the pecans, cinnamon and sugar.
When the cakes are still warm, dunk them, one at a time in the butter/maple mixture and then roll them in the sugar/pecans.
Stack them on a plate and serve immediately.