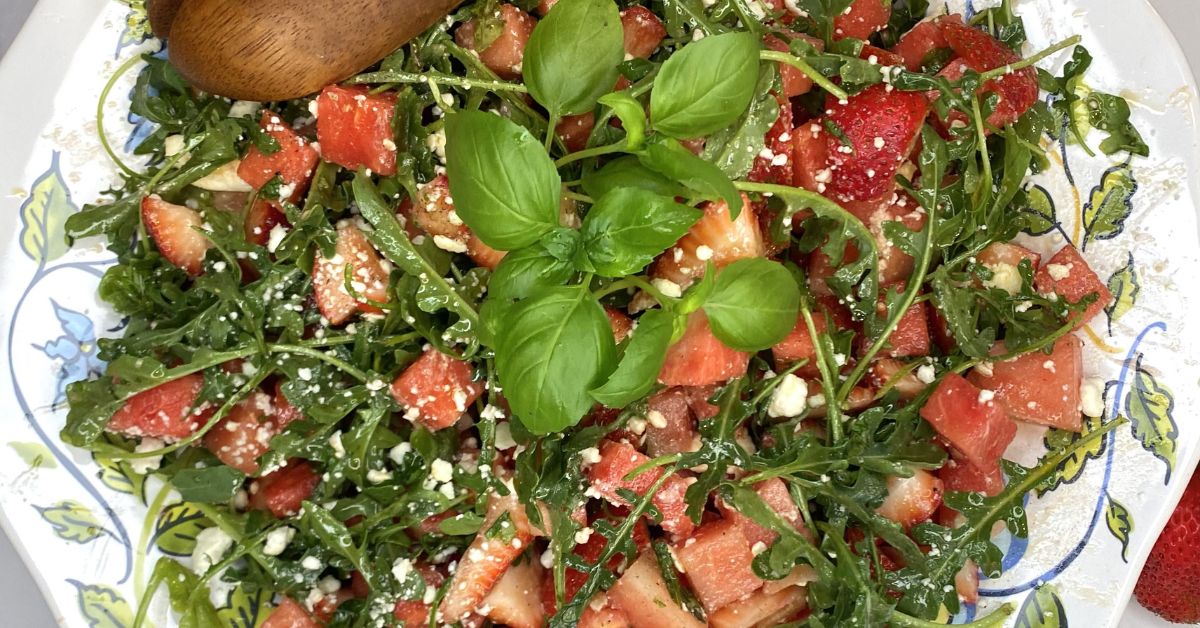 Arugula, Watermelon, Strawberry Salad With Lemon Strawberry Dressing
This is one of my favorite salads! I love how salty, sweet, and peppery it is. Make this salad next time you are hosting an outdoor gathering. Everyone will love it. It's like summer in a bowl!
Ingredients
4 cups Watermelon, cubed (about 1 inch cubes)
1 cup Strawberries, quartered.
3 Tbsps. Meyer Lemon Extra Virgin Olive Oil (or Basil or Lime EVOO)
1 Tbsp. Strawberry Pulp Vinegar
Lemon zest (optional)
1/4 cup fresh Herbs --mint, oregano, basil leaves, parsley or dill, chopped (reserve a few whole leaves for garnish)
4 oz. Feta cheese (approximately)
3 cups fresh Arugula (about 4oz)
freshly Ground black pepper
kosher salt to taste
Directions
In large bowl combine olive oil, vinegar, lemon zest, and herbs. Stir to combine.
Add watermelon chunks and strawberries. Gently stir to coat.
Add feta cheese, arugula, black pepper. Gently toss to combine all ingredients. Taste for seasoning and add salt if needed. Serve chilled.