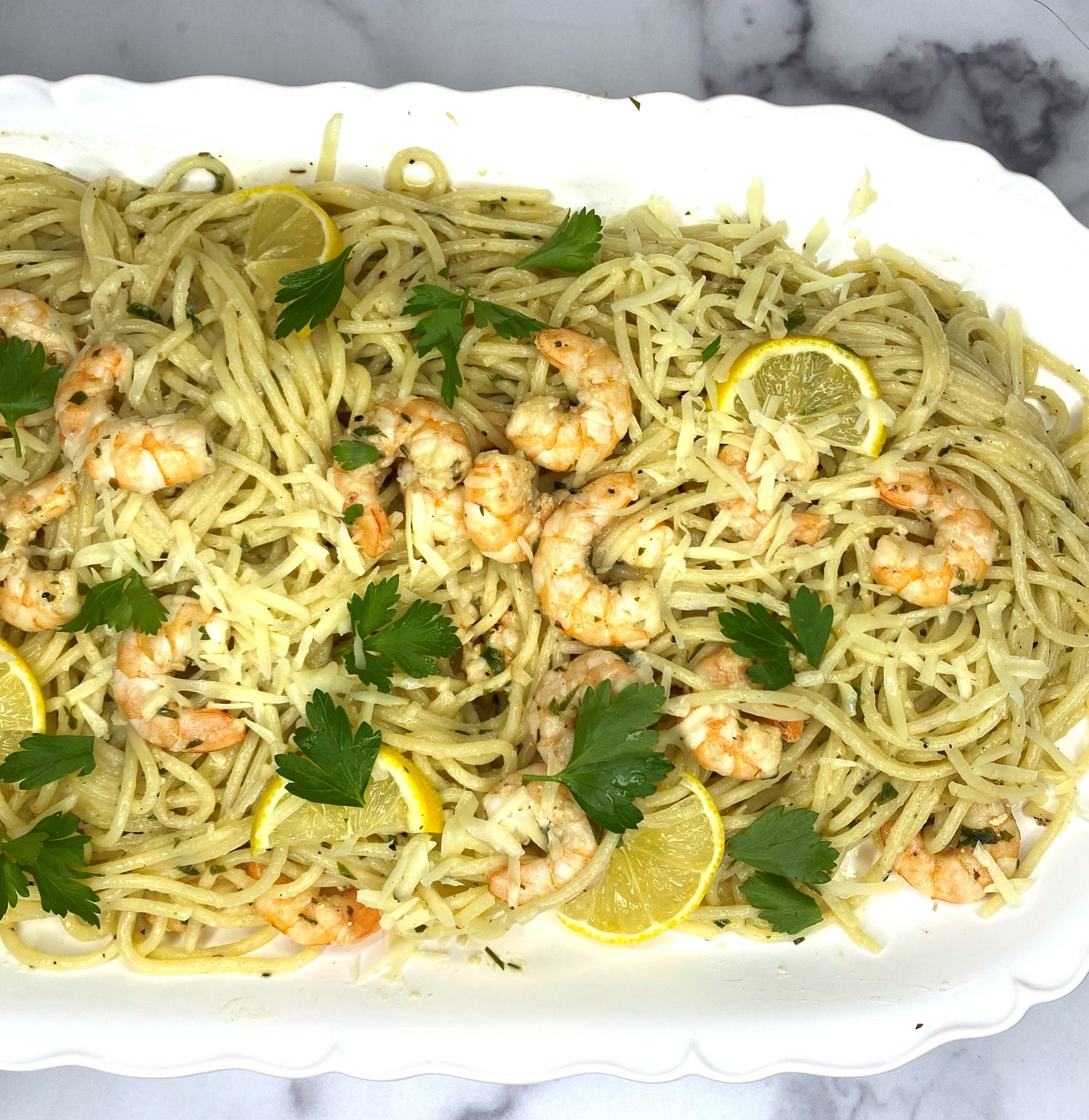 Lemon Garlic Shrimp Spaghetti
The ingredients in this quick pasta recipe will transport you to coastal Italy, where seafood and citrus are staples. The Lemon Garlic Shrimp Pasta combines bold flavors with bright colors and is ready in 20 minutes.
Ingredients
12 ounces Organic Handmade Spaghetti 
3 Tbsps. Meyer Lemon Extra Virgin Olive Oil
2

Tbsps.

butter
5 large Garlic cloves minced
¼ teaspoon crushed red pepper flakes or more
1 pound medium Shrimp peeled and deveined
1 large Lemon juice and zest
⅓ cup chopped Fresh parsley
Kosher salt and freshly ground black pepper to taste
2 ounces Parmesan cheese freshly grated 
Directions
Cook pasta  as directed. Drain, reserving 1 cup of pasta water.
Meanwhile, heat olive oil and butter in a large skillet over medium-high heat until sizzling. Add minced garlic and red pepper flakes; cook and stir until fragrant, about 30 seconds. Add shrimp; cook and stir until shrimp is just cooked through, 3 to 4 minutes. Remove from heat.
Once you've drained the pasta, set skillet with the shrimp mixture over medium heat. Add drained, cooked pasta and ¼ cup of reserved pasta water; toss to coat. Cook and stir until heated through, adding more pasta water if pasta seems too dry.
Remove pasta from heat and stir in fresh lemon juice and zest, and parsley. Season to taste with salt and pepper. Transfer to serving bowl or platter; top with grated parmesan cheese if using and serve.
Modified recipe from the blog "Pinch and Swirl"