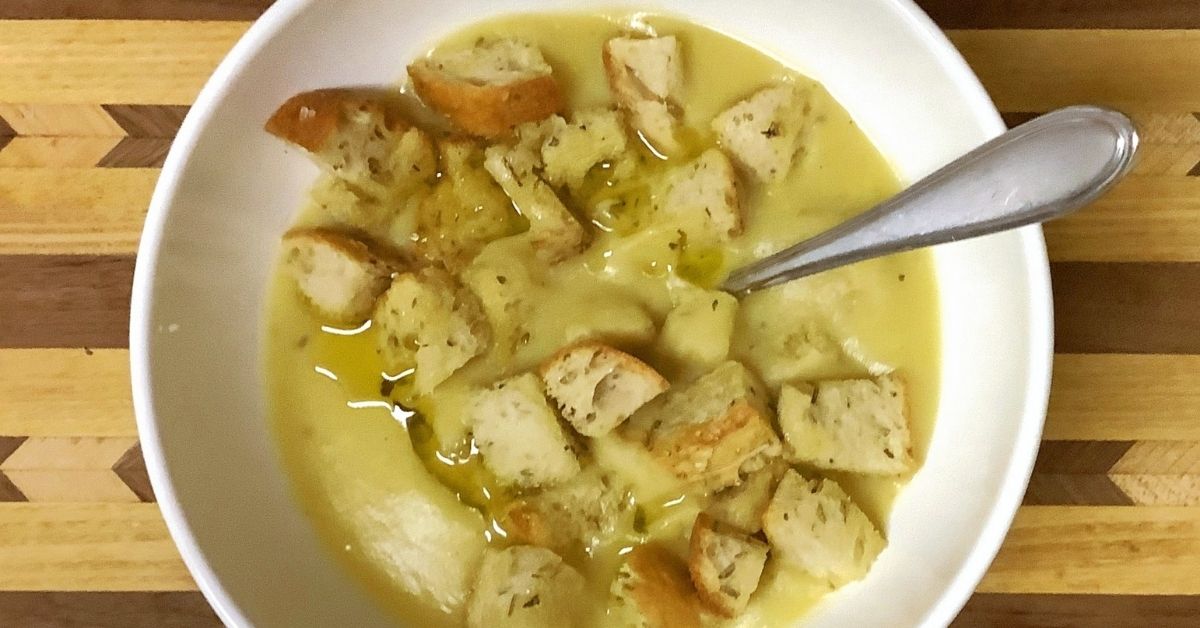 Potato Leek Soup With Lemon Rosemary Olive Oil & Homemade Croutons
This is something I have wanted to make for a while, and I finally did it last night. Definitely a keeper! Ok, I may have gone a little overboard with the croutons.
A wonderful rich, creamy soup finished with lemon, herbs, cream, and olive oil. It's quick, easy, and comforting.
Ingredients
6 Tbsps. Lemon Rosemary Extra Virgin Olive Oil, divided
1 medium Leek, cleaned and sliced
2 medium Celery Stalks, diced
2 cloves Garlic, peeled and minced
2-2 ½ tsp. Lemon Rosemary Garlic Salt
½ tsp. Freshly cracked black pepper, divided
5 cups unsalted Vegetable or Chicken stock
6 medium Russet potatoes, peeled and cubed (about 2 ½ lbs.)
1 Bay leaf
3 Sprigs fresh thyme
Zest and juice of 1 Large lemon
4-5 Tbsps. Heavy cream or half and half
1 tsp. Worcestershire sauce
Pinch cayenne pepper
Directions
In a Dutch oven or stockpot, heat 3 tablespoons olive oil to medium-low heat. Add the leek and celery, and sauté for 7-8 minutes, until soft. Stir in garlic, salt, and ¼ teaspoon black pepper.
Add stock and bring to a simmer. Add potatoes, bay leaf, and thyme sprigs and cook 15-20 minutes or until potatoes are tender. Discard bay leaf and thyme sprigs.
Use an immersion blender** to puree the soup until very smooth. Stir in lemon zest and juice, cream or half and half, Worcestershire sauce, and cayenne pepper. Taste and adjust seasoning, if necessary.
Serve soup in bowls with homemade crouton, drizzle with the remaining 3 tablespoons of olive oil and dust with remaining ¼ teaspoon black pepper.
**If you do not have an immersion blender, transfer soup to a blender and puree until smooth. Take caution with pureeing hot food by removing plug on the lid of your blender and covering it with a kitchen towel to let some steam escape.
Recipe modified from The Healthy Epicurean.