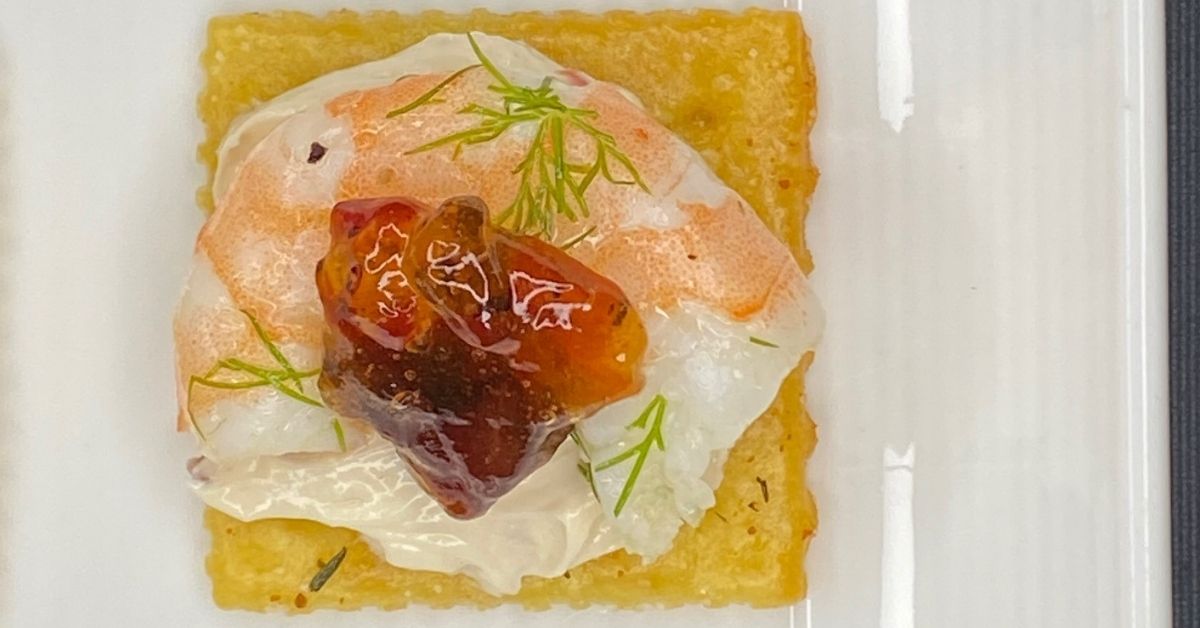 Shrimp On Seasoned Crackers With Bacon Jam And Cream Cheese
Heaven on a cracker! Tangy cream cheese and smoky bacon jam play up the shrimp's 🦐 natural sweetness for this quick and easy appetizer. 
Ingredients
Seasoned Crackers
Shrimp
24 jumbo Cooked Shrimp, peeled (about 1 lb.)
1 teaspoon Kosher salt
1 teaspoon Black pepper
1 tablespoon Meyer Lemon White Balsamic Vinegar

1 tablespoon chopped fresh chives, plus more for garnish
1 tablespoon chopped fresh dill, plus more for garnish
Additional Ingredients
½ cup cream cheese, at room temperature
¼ cup Hot Pepper Bacon Jam, at room temperature
Directions
Prepare the Seasoned Crackers: Stack crackers upright (as they are packaged in the sleeve) in an airtight container in a single layer. Whisk remaining 2 ingredients in a bowl; pour mixture evenly over all crackers. Put lid on container; let stand 10 minutes. Flip container; let stand 10 minutes. Repeat until oil and seasoning have soaked into crackers, about an additional 10 minutes.
Prepare the Shrimp and place in a large bowl. Stir together shrimp, salt, pepper, vinegar, chives, and dill until shrimp are evenly coated.
Add bacon jam to cream cheese and whip until smooth.
Arrange 24 seasoned crackers on a platter. (Reserve remaining crackers for another use.) Spread 1 teaspoon cream cheese on each cracker. Top each cracker with 1 shrimp, and spoon ½ teaspoon pepper jelly onto each shrimp. Garnish with additional herbs. Serve immediately.
Modified Recipe From Southern Living Magazine